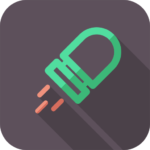 Bullet is a social media app aimed towards events and businesses. Through the iPhone App, users can post messages and optionally attach a photo. This will then be showcased on the tvOS App which will scroll through the users' posts. 
The main use of the app is to share experiences around events and locations, with the participating or visiting people. It can also be used as a media to communicate important information.
Each Post is posted under a 'Tag' much similar to a hashtag or a subreddit. Users can then watch all Posts posted by users either on their phone or on the Apple TV.
The tvOS version's primary use will be to 'listen' at a tag showcasing the posts for a tag, while the iOS version will be able to post Posts - Much like a TV.. and a remote.